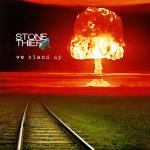 The Second Album - We Stand Up OUT NOW!
Posted: 07/04/2018
We are proud to announce that our second album 'We Stand Up' is OUT NOW, and is available to buy/stream on all the major online digital music retail websites/apps.
To celebrate the release, we will be having a launch party gig at the legendary Water Rats venue in London on Saturday 19th May 2018. Gig Details HERE
In the meantime you can buy/stream the album from these sites:
Armenia We Hear You Charity Video
Posted: 24/01/2018
At the end of 2017, our lead singer Lee Fletcher, who also happens to be an Audiologist, went on a mission to Armenia to help those who are deaf or hard of hearing.
This song and video was inspired by tragedy and a large act of kindness combined. The lyrics speak of an unrecognised atrocity from 100 years ago. They also elude to a recent charitable mission to help the people of Armenia.
New track from our forthcoming second album!
Posted: 28/01/2017
Here's a live version of one of the new tracks on our forthcoming second album!
Video Flashback!
Posted: 28/01/2017
Check out this little video documentary we did way back in 2013 at the legendary 100 Club!